21 Apr

Google Earth Introduces Photo Viewing with a Single Key

Eric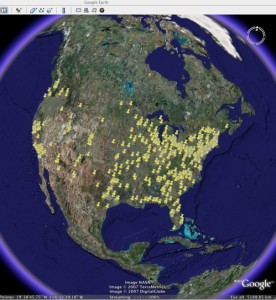 Remember when dreaming of exotic and far off lands was the stuff of imagination? If you wanted a glimpse into the world beyond your own walls you had to look in a glossy travel magazine or, if you were lucky, you knew someone who had recently traveled. It was usually a toss-up as to whether you were more excited than they were about their photos coming back.
Present day, Google Earth's "Photos" layer already lets you see photo albums from people all over the world. Simply choose a place, zoom in, find the photo icons, and realize five hours later how much time you've spent on a virtual walkabout. This new feature makes viewing multiple photos from the same location even easier.
As always, the "Photos" layer must be checked. Once you're in the vicinity of the area you're visiting, you'll notice that the icons representing user-submitted photos are now both large and small. Simply click on one of the larger icons to bring up a cluster of photos and use the left and right arrow keys to view them. The days of clicking individual photos are officially a memory.
Getting a feel for a new area has never been easier. Exploring a potential vacation site, new home, or just enjoying the photos that other people have posted from around the world is now a single key press away. And, I'd imagine, the number of hours people spend viewing other people's travel albums just saw a significant bump.
Local business owners need to jump on this immediately. You now have the ability to create a cluster of photos around your business, upload them for free, and get a larger icon on the viewer's screen. You can instantly become a destination rather than a listing. And, at a time when every advertising penny matters, an increase in the size of your photo icon on Google Earth can do nothing but help you.